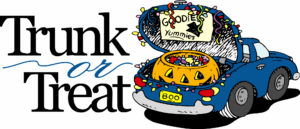 Join the BTPTA for
TRUNK OR TREAT
Friday October 27, 2017
6:00-8:30pm Conley Parking Lot
DETAILS:
6:00pm Parking Lot Opens
6:30pm All cars must be parked
7:00pm TRICK OR TREATING
8:15pm Awards & CLEAN-UP
What is Trunk-Or-Treating?
Trunk-or-Treating is a simple concept that is a safe & fun alternative to traditional trick-or-treating. Conley School families and siblings park their Halloween decorated vehicles in the Conley School Parking Lot, where trick-or-treaters can move from car to car to show off their costumes and collect treats. Whether it's the trunk of a car that looks like an Autumn Harvest, the back of a van decorated as a vampire's lair, or a pickup truck with a mobile pumpkin patch – you can decorate your vehicle with as much imagination as you want. We'll have Trunk Decorating Contests with prizes in many different categories! We'll email a CANDY COUNT on Tuesday 10/24!
The BTPTA is supporting FARE's Teal Pumpkin Project to create a safer, happier Halloween by suggesting to also offer non-food treats so that trick-or-treaters who need to avoid candy – due to food allergies or other reasons – can fully participate. Last year, many "Trunks" participated in the Teal Pumpkin Project by offering non-food items to all "Treaters". It was wonderful! This year, we hope you'll join in supporting this fantastic initiative! Visit tealpumpkinproject.org for more information.
RSVP by October 23rd!